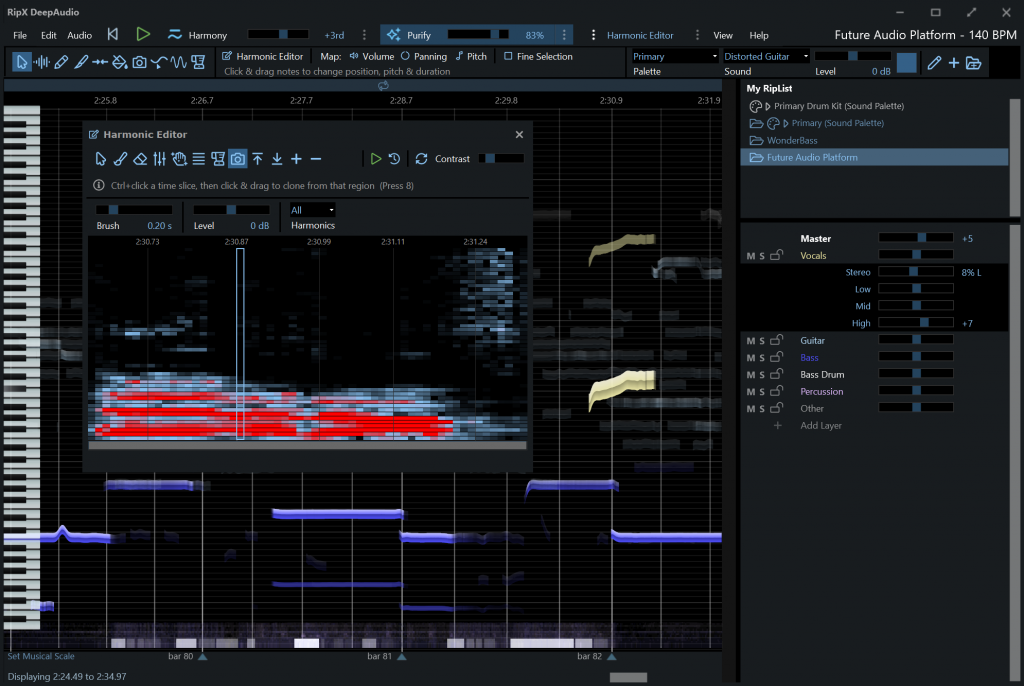 In this blogpost, we'll cover some of the most popular usages of our award-winning RipX DeepAudio, and provide a step-by-step guide on how to use the software for the most common noise clean-up use cases in music and audio post production. Need the highest-quality yet easy-to-use noise clean-up software? Grab a free, 1-Month trial of RipX DeepAudio.
Download Free Trial
Whilst RipX DeepAudio already provides users with superior stem clean-up capabilities as covered in a recent blogpost, it's also an invaluable tool for all kinds of professional users needing to fix, clean-up and repair audio.
What does RipX DeepAudio offer that RipX DeepRemix doesn't?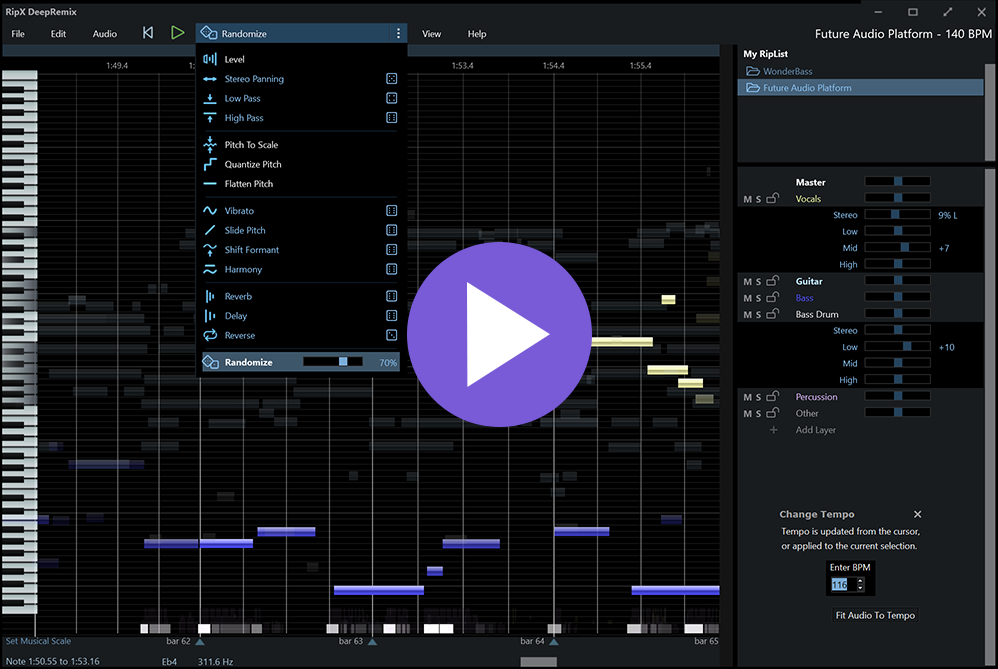 World's Best AI Separation of mixed stereo files into vocals, drums, bass and other instruments
Add Stems to DJ Sets to balance vocals and instrumentals on the fly
Learn to Play Parts in songs by seeing the individual notes played on-screen, and even slowing down complex sections
Easily create Backing Tracks to practice along to
Export Audio to MIDI (even drums) to drive instruments in your favorite DAW
Add Harmonies with a single click
Adjust Note Pitch & Duration, tempo, musical scale, stereo panning, volume and EQ levels
Copy & Paste Parts Between Songs, with automatic tempo matching
Tune Notes naturally to the nearest semitone, or a new musical scale
Apply powerful built-in Live Effects
Randomize effects and musical scale/key for inspiration
Understand the Music with intuitive, color-coded notes, and instant visual feedback of edits & effects
Drag & drop Background Images to set the mood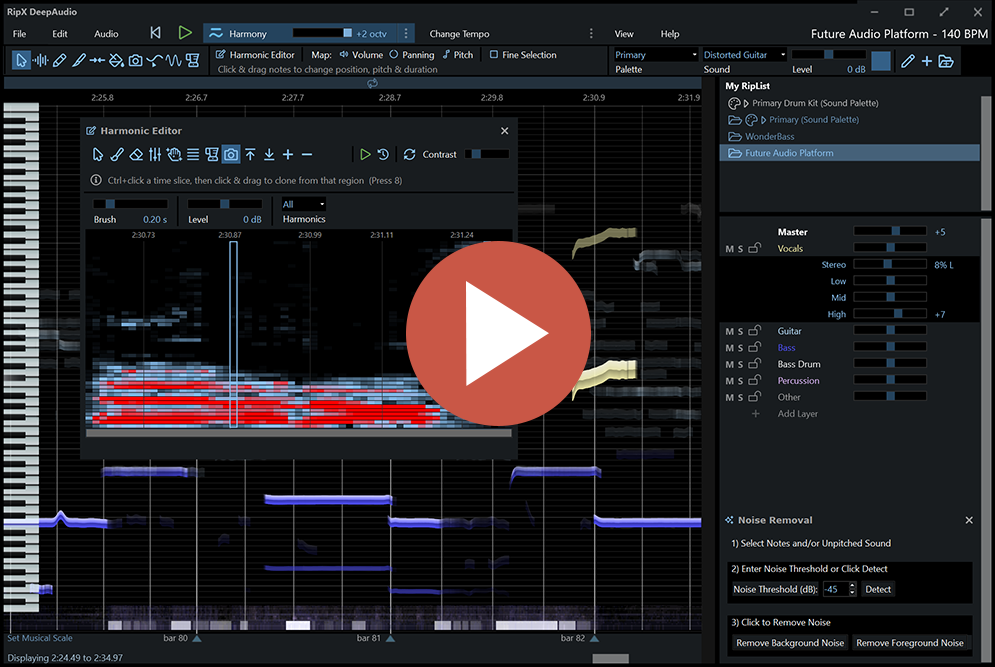 Includes DeepRemix® &
adds these Pro features:
Clean-up Tools for the Highest Quality isolated vocals, drums, instruments & sound effects
Audioshop® creative & repair tools
DAW integration
Unpitched Sound Editing independent from pitched notes & audio
Pitch Adjustment of individual notes, even within chords
Harmonic Editing of timbre & creation of new/hybrid sounds
Live Clean-up & Repair
Vibrato & Pitch Cloning between notes
Timbre Cloning
Chord Creation for boosting musical creativity
Instrument/Sound Replacement
Note & Percussion Entry using sampled notes, sounds & built-in instruments
Built-in Python Scripting for creating powerful audio editing, processing and analysis tools
Many more advanced tools & effects
Designed for Music Producers, Pro Remixers & DJs, Sound Designers, Audio Post Professionals, Songwriters, Students & Educators
After ripping a variety of files in RipX's core DeepRemix module, you can use the pro DeepAudio module to easily access any background or foreground noise that you may want to remove, or reuse/boost for effect. This could be vinyl crackle, knocks, coughs, twangs, additional strings played, breath, bleed from other vocal parts or voiceovers, instruments and percussion, traffic, wind, fan hums, crowds, breaths and much more.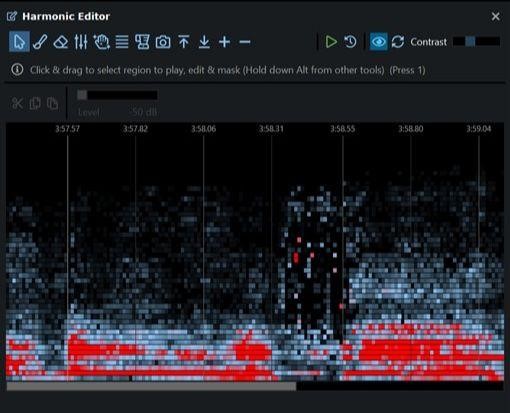 RipX DeepAudio's Harmonic Editor and the Edit Unpitched Tool are especially useful in editing close or overlapping frequencies which are usually difficult to access cleanly in a spectrum-based editor.
Using DeepAudio, you can even extract artifact-free dialog from noisy footage, clean-up individual harmonics with surgical precision, edit audio to video (macOS only), adjust vocal sibilance and digitize and clean-up crackly vinyl. Let's take a look at some typical noise clean-up use cases and how to process them using RipX DeepAudio.
Step 1 – Choose files for clean-up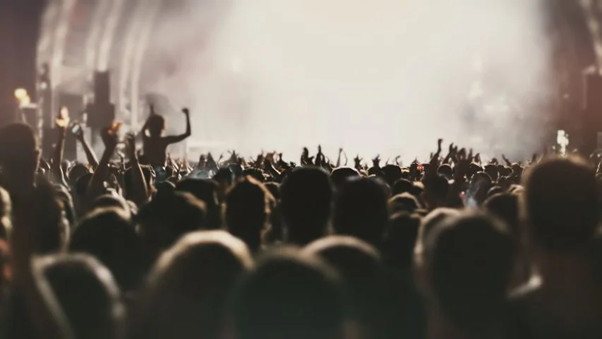 A common audio post production and music production clean-up task often involves erasing mix pops, clicks, coughs and other background noise such as fans, hums, traffic and crowd noise from a film/tv scene or vocal/instrument take.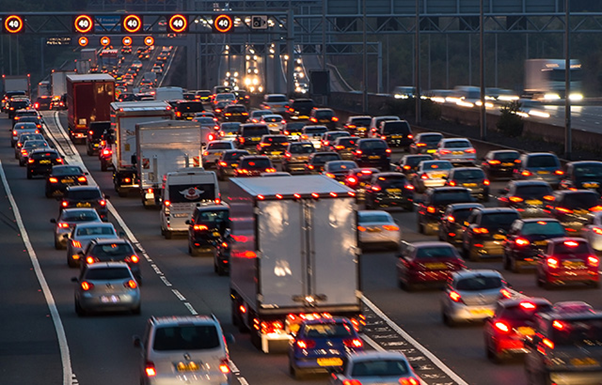 Alternatively, you might want to digitize your vinyl collection via a sound card and audio editor/DAW for listening to on a mobile phone, mixing on a laptop or via a pair of CDJs. However, depending on the cleanliness of your vinyl, the recording quality may not always be ideal.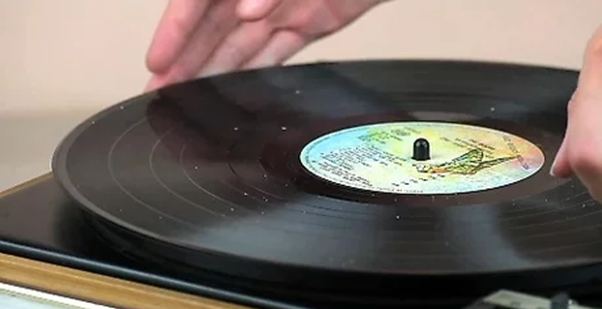 In either of the above scenarios, simply locate the video (MP4, M4V or MOV) or music files (MP3, WAV or AIFF) you want to clean or have recorded and drag & drop them into RipX for ripping.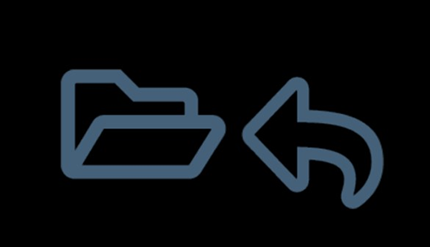 Step 2 – Rip
In all of these clean-up scenarios, when the Ripper Options dialogue box appears, it's often best to ensure that all instrument/sound options are selected in order to make sure that as much detail as possible is presented for identifying and cleaning up.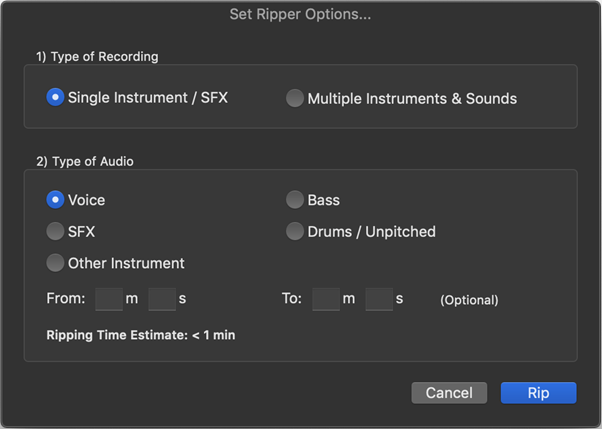 After ripping, your songs will show as Rips in the RipList Panel to the right. Double-clicking each Rip in the RipList will display its contents with notes in colors that correspond to the parts to which they belong.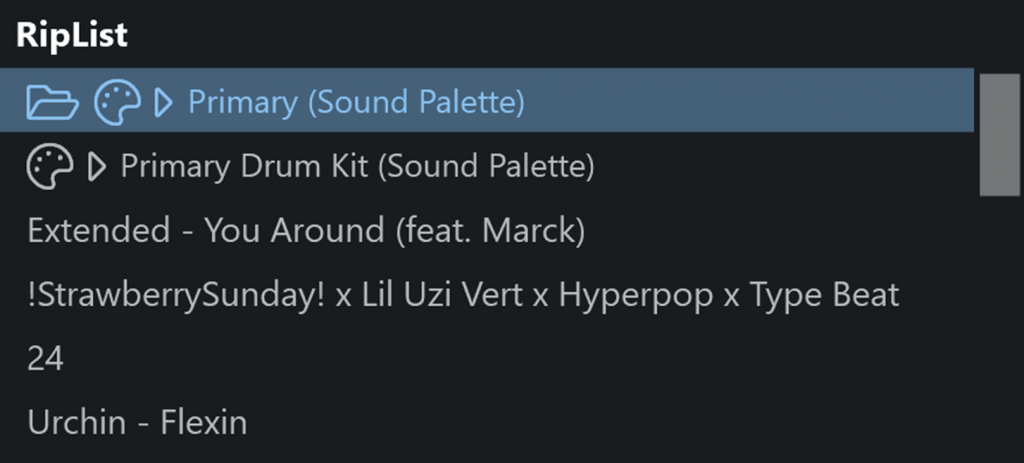 Step 3 – Clean-Up, Fix & Repair
One clean-up use case is to use the Edit Unpitched Tool to select and delete any unwanted noise in the Rip.
To access the Edit Unpitched Tool, right-click on the Rip with your mouse to be presented with this menu.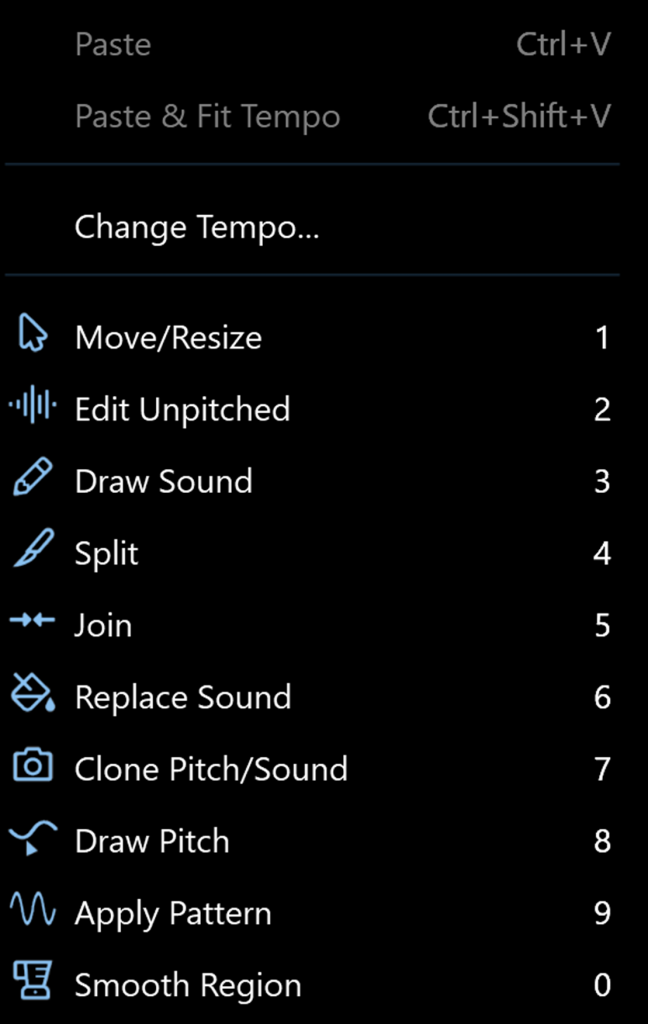 Then select this Edit Unpitched icon:

Alternatively, it can be selected from the toolbar at the top of the screen.
Once in Edit Unpitched mode, listen back to the section containing the noise you want to delete, identify and select it with the cursor and hit Delete. In the example below, we want to delete some crowd noise from behind a live performance but this can also be used to delete vinyl crackle.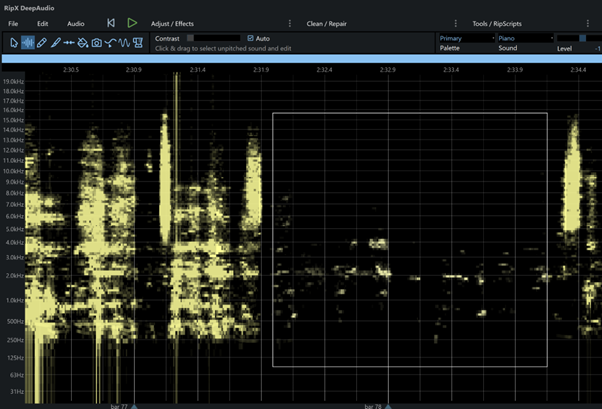 Users can also try moving a combination of the sliders found under the Clean / Repair menu – allowing live audio repair and clean-up features. In particular, Filter Background is useful for removing background noise such as in old recordings, and Tones & Hums provides a quick sweeping fix/improvement to a recording.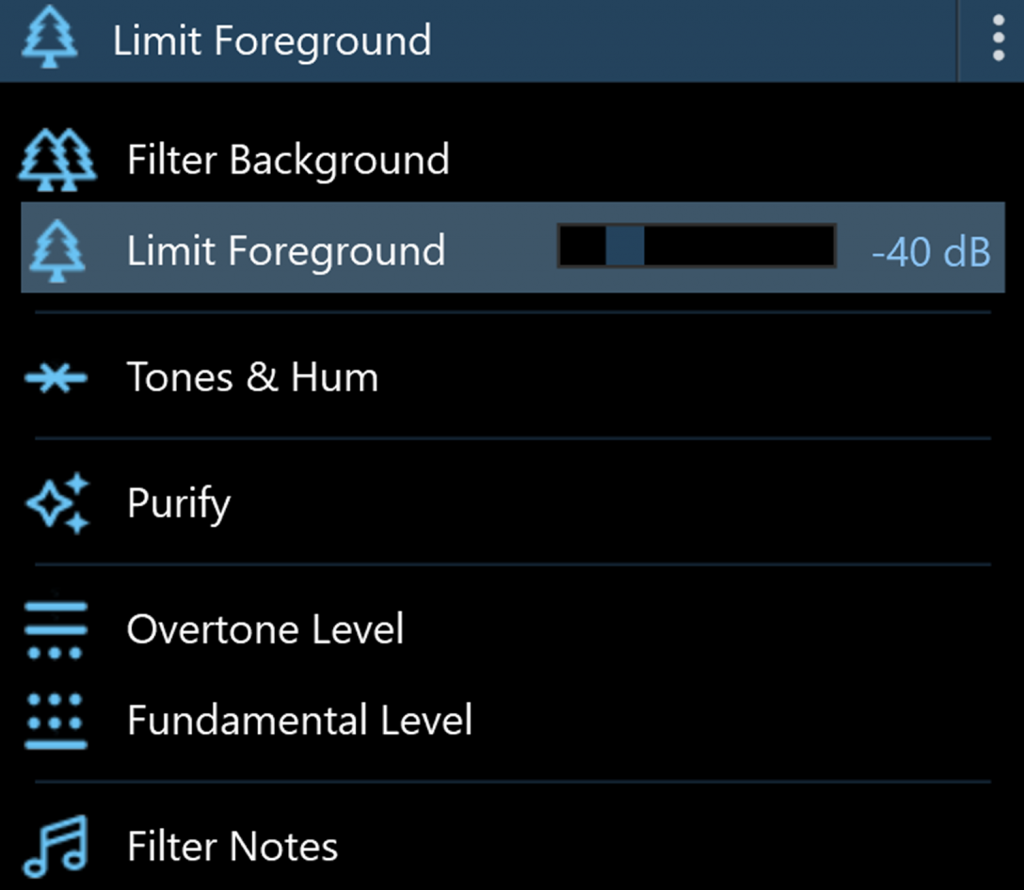 You can even adjust overtone levels in notes and even regenerate fundamental harmonics, to bring back bass presence in vocals and instruments, lost during mixing & mastering.
At a deeper, more surgical level, harmonics can be edited inside notes with Harmonic Editor.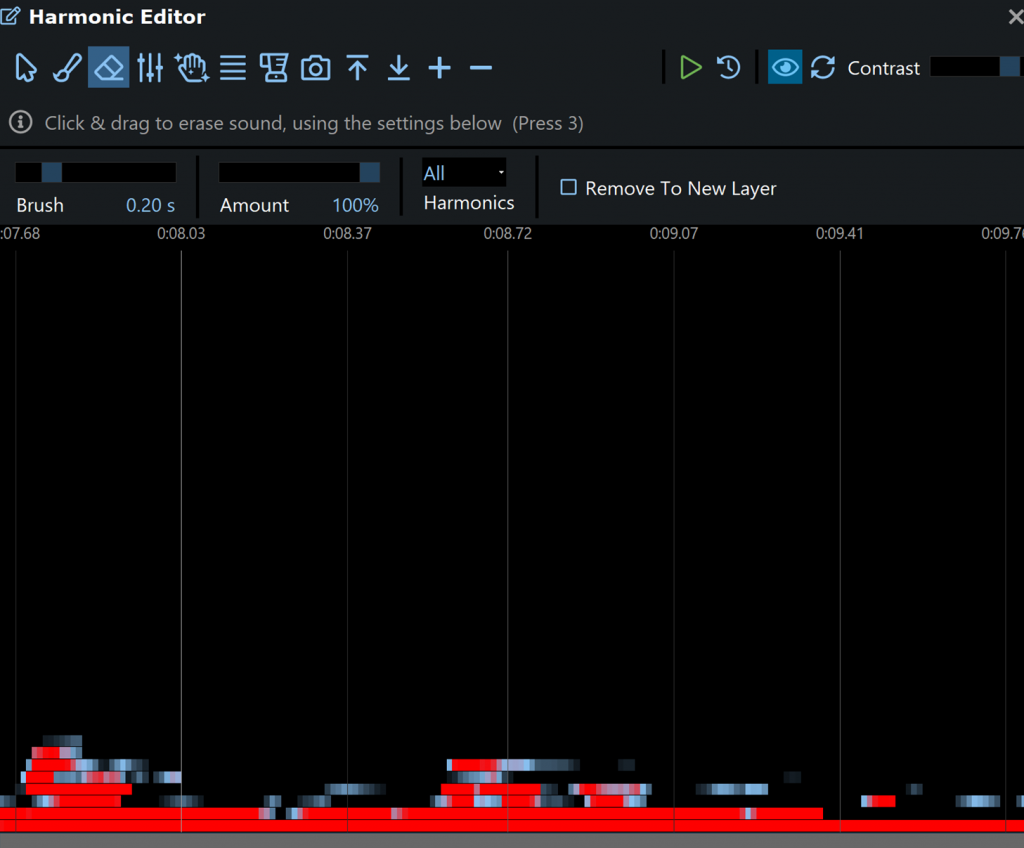 You can choose from a number of tools in Harmonic Editor to further clean, erase and adjust notes, plus remove noise at the harmonic level, allowing supreme clean-up not available in the same way using any other stem separation software.

Available just beneath the menu bar or with a simple right-click of the mouse, DeepAudio also offers a toolbox called Audioshop to further manipulate notes. We've already covered how to use the Edit Unpitched Tool, but you may wish to slice notes using the Split Tool for finer clean-up, or use the Join Tool to glue larger sections of sounds and noise together to then delete, plus much more!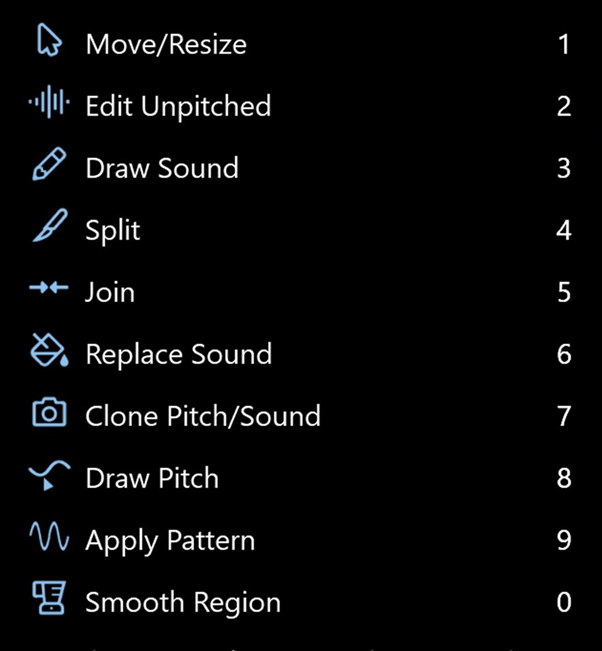 There are also some further RipScripts accessible under the Tools / Ripscripts menu that allow for clean-up of frequencies and phase.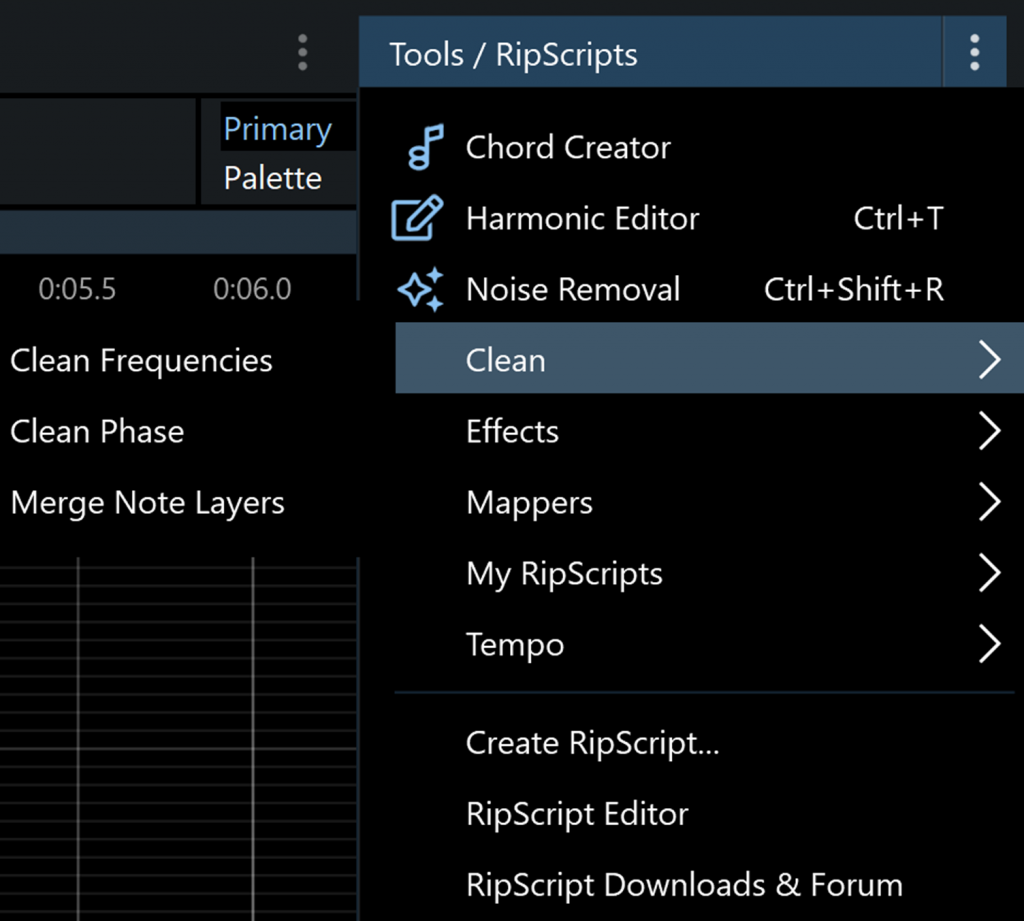 Finally, for quick and easy noise removal, you can also adjust the volume sliders on the Layers Panel, as shown in this video:
Step 4 – Export
Once you are happy with your clean-ups and noise removals, simply choose File>Export and select the file format to export.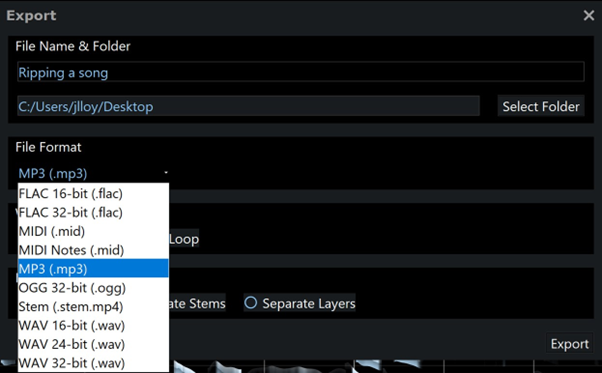 Most leading DAWs can open audio clips for editing with DeepAudio. RipLink plug-ins are installed so that it can be used from Pro Tools and DAWs that support VST3 & ARA2, including Studio One, Cubase, Reaper & Cakewalk.
Ableton Live, Logic Pro X, FL Studio, ACID Pro, Digital Performer & Mixcraft users can set RipX DeepAudio as the external sample editor, or by using general audio import and export methods.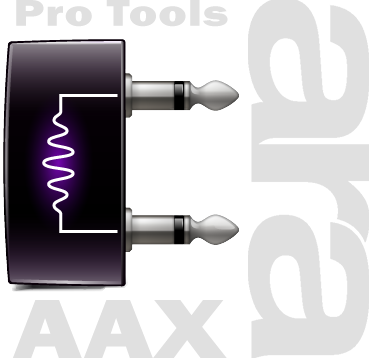 Better yet, when you buy RipX DeepAudio, you get the core DeepRemix module for free.
Download Free RipX Trial
Learn About RipX DeepRemix
Learn About RipX DeepAudio